Effective | Aggressive | Compassionate
Immigration Lawyer Atlanta
Tadeo & Silva Immigration Attorneys, Atlanta, Georgia.
LEGAL CONSULTATION
Book a consultation with us to answer all of your questions!
AFFORDABLE PAYMENT PLANS!
We understand that hiring an immigration lawyer in Atlanta can be one of the most stressful and costly moments in one's life. Our affordable legal fees and flexible payment plans relieve the stress without compromising the quality work and expertise that our attorneys bring to every immigration case.
SET GOALS AND HAVE A GAME PLAN!
Tadeo & Silva Immigration Attorneys pride themselves on being very hands-on with their clients and their family members to help them achieve their immigration goals. Communication is key! When you hire our attorneys, you get honest, realistic expectations and an attorney that will ease the inevitable anxiety that comes with navigating the tough immigration system.
SERVING THE ATLANTA AREA AND BEYOND!
Whether you are in Atlanta or anywhere in the United States, Tadeo & Silva Immigration Attorneys are able to take your immigration case and give you the best results your case can get. Our attorneys have managed cases from clients all over the country and internationally.
Citizenship (Naturalization) can be the most rewarding outcome for a client and his attorney. Usually this is the final step…
At Tadeo & Silva we understand the fear of having a family member in removal or deportation proceedings and that is why we fight…
Here at Tadeo & Silva Immigration Attorneys, we pride ourselves in helping families stay together. We understand what it means to be separated from your loved ones…
At Tadeo & Silva Immigration Attorneys, we pride ourselves in preparing strong and compelling inadmissibility waivers so that your loved one can stay in the U.S. …
Immigration Attorney
Attorney Peter A. Tadeo is the founder and owner of Tadeo & Silva Immigration Attorneys. He handles a variety of matters in U.S. Immigration and Nationality Law. Mr. Tadeo understands the importance of having superb representation when it comes to immigration matters. Read More
Immigration Attorney
Attorney Massiel Silva Tadeo is a partner and owner of Tadeo & Silva Immigration Attorneys. She specializes in removal (deportation) defense, family immigration, and hardship waivers. Mrs. Silva Tadeo was born in the Dominican Republic and she personally recognizes the challenges of our immigration laws. Read More
United States immigration laws are complex and confusing for anyone who isn't intimately familiar with the subject. However, many people who deal with immigration laws aren't looking to acquire legal experience in this field. They just want to become a lawful permanent resident or a citizen of the U.S., as well as help their relatives obtain legal status in the country. At the Tadeo & Silva Law Firm, we pride ourselves on knowing the ins and outs of immigration law and putting our extensive legal experience to work as your legal advocate. We focus on helping families remain together or reunite in the U.S.
Peter A. Tadeo and Massiel Silva Tadeo are Atlanta lawyers who focus exclusively on helping people live and work in Georgia and the greater United States. Unlike other Georgia lawyers, we are solely interested in assisting people with immigration issues: helping you enter the U.S to live and work, fighting removal orders, or whatever else your immigration situation may call for. As attorneys who have dedicated our entire careers to immigration issues, we are proud members of the American Immigration Lawyers Association (AILA). Additionally, Peter is the treasurer of the Georgia Hispanic Bar Association.
No issue is too complex or confusing for us to resolve. We have years of experience handling family-based permanent residency, deportation defenses, citizenship and hardship waiver applications, and more.
If you and/or family needs help with permanent residency matters, we are here to represent you. The lawyers at Tadeo & Silva Law Firm are effective, aggressive and compassionate immigration lawyers in Atlanta, GA. We have the capability and experience to resolve your immigration matters.
Choosing an experienced immigration lawyer in Atlanta is important. Choosing an experienced immigration lawyer who has a personal connection to immigration issues is even more vital. At Tadeo & Silva Law Firm, we understand what it is like to be fighting to stay in America, struggling to obtain permanent residency, or waiting for a family member to be granted permission to join us here in Georgia.
Attorney Peter A. Tadeo, an owner and founder of the Tadeo & Silva Law Firm, is the son of Italian and Mexican immigrants. His family history has helped him to have a unique understanding of the hardship and struggles that come with fighting for and maintaining permanent resident status. Tadeo has lived in Atlanta since 1995 and graduated from the Walter F. George School of Law at Mercer University. Since becoming a member of the Georgia State Bar, he has devoted his career and his firm's entire practice to immigration law. Tadeo sees Atlanta as a city of opportunity for all and wants to help families stay together in Georgia. This is what motivated him to become a lawyer.
Massiel Silva Tadeo, an owner, and partner at the Tadeo & Silva Law Firm, also has a personal connection with immigration law. Born in the Dominican Republic, she experienced the challenges of becoming a legal resident in the U.S firsthand. This experience, along with her time working at the Latin American Association during college, inspired her to become an advocate for the immigrant community in Atlanta. After graduating from Emory University School of Law, Mrs. Silva Tadeo dedicated her career to immigration law. She specializes in family green cards, hardship waivers, and removal defense.
The attorneys at Tadeo & Silva know the challenges families face when trying to achieve their dream of living and working in the U.S., and they want to achieve their clients' immigration goals. That is why they work hard every day as immigration lawyers Atlanta. Even in the most challenging cases where circumstances are stacked against you, they are committed to fighting for each and every client who needs their help.
U.S. Citizenship and Immigration Services (USCIS) are responsible for granting and denying applications for permanent residency, and they expect perfection when applicants complete applications to stay in GA or anywhere in the United States. The agency also fights hard to deport anyone it has determined should not be in Georgia. That's why people trying to obtain a green card or fighting to remain in GA need an immigration lawyer Atlanta who is willing to fight for them.
At Tadeo & Silva Law Firm, you will have the benefit of not one but two attorneys who are ready to battle the federal government on your behalf. Every one of our clients has the advantage of working with a team of attorneys with plenty of legal experience. This means your case will never be passed to an inexperienced low-level associate after your free consultation with the partners like some firms do.
Our attorneys are in good standing with the Georgia Bar and have plenty of experience in Atlanta's tough immigration courts. Tadeo & Silva are respected in the GA legal community. Please, do not take our word for it: look at our many client reviews, and rest assured that our attorneys provide the highest-quality legal representation for immigration cases in Georgia.
When you have an immigration issue that needs to be resolved efficiently, you need the legal help of Tadeo & Silva.
The attorneys at Tadeo & Silva know what is at stake with each case they accept. You and/or your family member may be fighting to stay in the country. You may be out of work due to permit issues. You may have a loved one being detained in an ICE facility. Our team of attorneys does not take these situations lightly. Working as a team, we advocate for you or your loved one's rights aggressively and quickly to obtain the most favorable results in every case.
Although Tadeo & Silva is a small firm, we are very strong. We devote ourselves to every single case we take on. Both Peter and Massiel are trial-tested and not afraid to take your case into the courtroom if necessary. Along with the experienced team at Tadeo & Silva Law Firm, both partners will stay in touch with you, frequently updating you at every stage of your case. Whatever your immigration problem is, know that you have two immigration lawyers in Atlanta ready to fight on your behalf. Contact us immediately for immigration help from obtaining citizenship to deportation defense.
SCHEDULE A CONSULTATION
We look forward to speaking with you. The consultation fee will be applied to the cost of your legal services.
Choose the Right Immigration Lawyers in Atlanta
The Best Immigration Lawyers in Atlanta
When looking for the best immigration lawyers in Atlanta, you have plenty of choices. Choosing the right legal representation for your case can be difficult, but we're here to guide you through your options for immigration lawyers and help find the best fit for your situation. There are many different types of attorney, and even within the category of immigration attorneys, individual lawyers have their own specialties and areas of expertise. Some attorneys know the ins and out of business immigration, while others are better suited to guide you through your removal defense. This guide will give you the basics of what type of lawyer to look for in your situation and how to find one that fits your needs, even if you've never worked with an attorney before. We'll cover:
Types of immigration attorney

What makes a good immigration lawyer

How to narrow down your options

What to expect in working with an attorney

How the payment process works
As you read and learn more, we hope you'll agree that Tadeo & Silva are among the best immigration lawyers in Atlanta. Peter A. Tadeo and Massiel Silva Tadeo are partners in law and life, and each brings something special to the table. Both are members in good standing of the State Bar of Georgia, the American Immigration Lawyers Association (AILA), and the Georgia Hispanic Bar Association, where Mr. Tadeo also serves as treasurer. They offer:
Deep knowledge of U.S. Immigration and Nationality law

Supportive, compassionate legal representation

Personalized service

Easy payment arrangements
If you need one of the best immigration lawyers in Atlanta, reach out to Tadeo & Silva and book a consultation.
Tadeo & Silva Immigration Attorneys in Atlanta, Georgia have extensive experience helping clients achieve their goals.
Finding the Right Immigration Attorney in Atlanta
You may be wondering how to find the type of attorney you need. Immigration lawyers serve many purposes, but almost of their work is related to people trying to enter or stay in the country. For example, immigration lawyers work to protect the rights of non-citizens who are visiting the United States on a temporary visa. We also help those who are seeking permanent residency or citizenship to navigate the naturalization process. We'll help you understand the law as it applies to your situation, make sure you have the correct documentation and forms, help you fill them out and file them on time, and represent you in court if necessary. Your immigration lawyer can even help reunify your family or protect you from deportation.
Different circumstances require an individualized approach, and that's why you'll find a range of specialties even within the field of immigration law. Look for a local immigration attorney in Atlanta if you or your loved ones:
Need a green card

Want to become a citizen

Need a visa to travel, work, or attend a US college

Received a removal notice or a notice to appear

Need to investigate legal status
Immigration law is very complex, but in general, it can be divided into three major categories: business immigration, family-based immigration, and asylum/refugee law. For example, a business owner may need to sponsor prospective employees for visa applications and make sure they can work in Georgia legally. In this case, the business owner should look for an attorney focusing in business immigration.
Family-based immigration lawyers know more about chain-based migration or family reunification (where legal residents or people with green cards can advocate for their family members to come to the US). They may also focus on removal proceedings and deportation defense. This area is called family-based immigration since the goal in these situations is to keep families together, whether the specific case calls for helping to bring family members of green card holders to the US or keeping a family member from being returned to their country of origin.
Finally, the asylum and refugee area of immigration law deals with people who have left their countries of origin because they were persecuted or in fear of persecution "due to their race, religion, nationality, and/or membership in a particular social group or political opinion," (as defined by United States Citizenship and Immigration Services). There are specific rules and regulations for asylee and refugee situations as well as for other types of humanitarian relief, so if you're seeking asylum, you'll need an attorney who specializes in this area of law. They can help you find out if you qualify for protected status and then apply for it.
At Tadeo & Silva, an immigration firm founded by immigrants and descendants of immigrants, we know how serious and personal your situation is, and we will do everything we can to help you.
Call or email today to book a consultation.
Tadeo & Silva have extensive experience with every type of immigration issue in Atlanta that you may face. We are here to help!
Make a List of Potential Immigration Lawyers in Atlanta
Choosing an immigration attorney may seem daunting, but approaching it in an organized way will remove a lot of confusion. Here are some steps to take that will help you narrow down all the options and find the best immigration lawyers in Atlanta for your case.
First of all, be clear on what are you looking to achieve. This could be getting a work permit, filing for an adjustment of status, applying for protected status, fighting removal proceedings, or many other things.
Second, narrow down your criteria. This might include thinking about:
Practice area

: Is the attorney's office location convenient for you? If applicable, do they work in the court where your case will be heard?

Language

: In a metro area like Atlanta, you should be able to find an attorney who speaks and writes the language you're most comfortable with.

Price

: Does the firm charge a flat rate or are there different prices for different services? Can they work with you on the payments?
Once you have your list of requirements in order, perform a Google search for lawyers in your area who fill all of your requirements. Try searching by your particular issue plus "immigration attorney" plus your location. It is best to avoid websites like AVVO and FindLaw. They'll provide you with an overall rating but not many specifics. Instead, look at the websites for real immigration lawyers in Atlanta, and don't forget to check out their social media platforms like Facebook and Google Business.
On individual attorney sites, you will be able to check your list of criteria against what they provide. And on their social media sites or Google Business, you'll be able to see real reviews from real people instead of the overall ratings on AVVO or FindLaw. You're more likely to find true feedback from previous clients that way. You can also ask for referrals from friends or family members who have had good experiences with immigration attorneys.
Call or email today and let's talk.
Dealing with the U.S. government without an ally can be confusing and frustrating. Let us be your advocate and help you achieve your immigration goals in Atlanta!
Contact the Immigration Lawyers in Atlanta on Your List
Compiling a list of good prospects is only half the battle in finding an immigration attorney. Next, you should reach out to the attorneys on your list. A quick way to do this is to visit their website. You can usually find an email address or a contact form, and this gives you a chance to check out their firm a little bit without making a commitment. You'll also avoid being charged any fees if your first contact is via email.
If you like what you see from one or two attorneys. contact them personally to schedule your first consultation. Find out in advance if the first meeting is free or if you'll be billed. Don't feel any pressure to make up your mind right away. You don't have an obligation to choose a particular lawyer. What's important is that they specialize in your type of immigration case and that you feel comfortable having them represent you.
Things you should find out at your initial consultation include:
How much do they charge, and what are their payment terms?

How long should your case take? They may not be able to give you exact dates at this point, but an experienced attorney should be able to provide you with an estimate.

Will you have to appear in court?

How, and how often, will they communicate with you about your case?

Are they available after hours for emergencies, and will you be billed for phone calls?

How many years have they been practicing law? Lawyers with a lot of experience are also more likely to have good working relationships with judges and other legal professionals who can help in your situation.

Have there ever been complaints or disciplinary actions against them? You can also find this information online, but beware if they won't answer directly.
If you have any immigration attorney needs, contact Tadeo & Silva, some of the best immigration lawyers in Atlanta.
Call or email today to schedule your consultation.
Our immigration firm is different than others in Atlanta. Work directly with immigration attorneys who care about you and your family. 
Choose an Immigration Firm You are Comfortable With
Your decision for choosing a final immigration lawyer from your list should combine qualifications with comfort. You'll know your lawyer is fully qualified by their schooling, membership in professional associations, and years in practice. For example, what law school did they go to, and is it accredited? Are they a member in good standing of the state bar in your place of residence? In order to obtain these credentials, they will have passed all of the minimum standards for obtaining a license to practice law in Georgia. But, of course there is more to it than just meeting the minimum standards. If your case is extremely complex, you may want to look for a very experienced attorney, or one who exceeds the basic credentials.
After qualifications come comfort. Do you have confidence that your lawyer will treat you with respect and keep you informed as your case progresses? Do you have faith in your lawyer and their ability to understand and present your case? Is your immigration attorney a good communicator who makes you feel like a priority?
The law firm of Tadeo & Silva will strive to exceed your expectations on every level. Our style of representation is aggressive when it comes to facing the courts and protecting our clients, but compassionate and understanding when it comes to you and your needs. We're a team of immigration lawyers in Atlanta who care about our clients, and we'll do whatever it takes to deserve your trust.
Call or email today to book a consultation.
Choosing an immigration law firm is an important decision. You'll never get high-pressure sales tactics from us. We are here to answer your questions and help you make a decision on immigration counsel that will work best for your goals!
Flexible Payment Options for Immigration Cases
After you have found an immigration attorney in Atlanta that meets your requirements, you still need to consider the pricing structure and cost of their services. Not all law firms operate the same way when it comes to billing. Some charge flat fees (one set price) for common services,  and others charge varying rates according to the seriousness or complexity of the case. You might be charged an hourly rate for a single case or arrange a retainer fee if you need a full-time lawyer on an ongoing basis. Some offices will give you your first consultation free of charge, and others might require a small fee in advance.
These are all considerations to keep in mind as you're choosing an attorney. Don't be afraid to ask questions about cost and billing up front. A trustworthy attorney will not mind your questions and will answer you clearly and honestly. One principle to keep in mind as you look at costs is that you'll get what you pay for. If it seems too good to be true, it probably is. However, no matter what your budget is, you should be able to find an attorney who is be qualified and motivated to work for you.
At the law office of Tadeo & Silva, our goal is to provide you with dependable local immigration representation at affordable rates. We want to offer you affordable, flexible, hassle-free assistance, because we know life can get complicated, especially when you're facing an immigration situation. Our easy payment plans are designed to keep your stress levels low while offering a high standard of service. We think this is just one of the factors that make us some of the best immigration lawyers in Atlanta.
Contact us to request a consultation about your case today- we look forward to working with you!
Call or email today and let's talk.
Choosing an immigration lawyer in Atlanta is one of the most important decisions you'll ever make. We're here for you every step of the way. 
Atlanta City Detention Center
The Atlanta Detention Justice Center is also known as the Atlanta City Jail. The Atlanta City Jail is also a contract detention center for the Immigration and Customs Enforcement Service. The Detention Justice Center holds approximately 160 ICE detainees.
Atlanta Immigration Live
Atlanta immigration live is a free, monthly video series from Tadeo & Silva Immigration Attorneys. Our trusted team of immigration attorneys answers real questions from members of the community, offering helpful advice.
USCIS Atlanta
The USCIS oversees lawful immigration and aids in citizenship and the naturalization process, immigration of family members, working in the U.S., adoptions, and more. The Atlanta USCIS office is one of approximately 200 throughout the country.
Abogados de Migracion en Atlanta
Tiene un problema de inmigración? Estamos abogados de migracion en Atlanta GA. Tadeo y Silva pueden ayudarlo a lograr sus objetivos de inmigración. Naturalizacion, deportacion, inmigracion de familia, y perdones.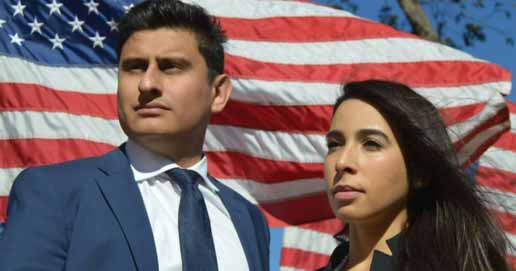 Tadeo & Silva Immigration Attorneys
3555 Koger Blvd Suite 120,
Duluth, GA 30096
Legal Consultation
Book a consultation with us to answer all of your questions!