Adjustment of Status Through Marriage
Do you know how an Adjustment of Status through marriage works? Tadeo & Silva Immigration Attorneys offer information and advice about this and more. Call us!
Author: Massiel Silva Tadeo, Founder, Tadeo & Silva
Attorney Massiel Silva Tadeo is a partner and owner at The Tadeo & Silva Law Firm. She specializes in removal (deportation) defense, family immigration, and hardship waivers. Updated on: May 02, 2023.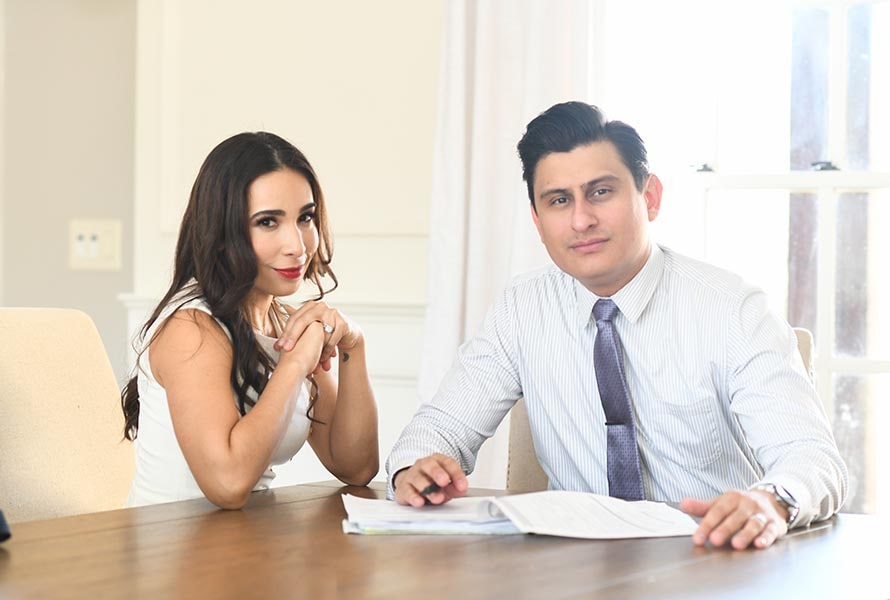 Contact us today to schedule your consultation.
Marriage and Immigration Status Adjustment
Many channels can be used to immigrate to the U.S. and obtain permanent residence. One such channel is known as adjustment of status through marriage.
Adjustment of status through marriage may allow a foreign national married to a U.S. citizen or even a lawful permanent resident who is legally residing in the US to qualify for lawful permanent resident status (IR6 Green Card holder status) due to the marital relationship.
This article examines what adjustment of status through marriage is, who can qualify, how soon after marriage you should apply, the process, and how much it costs. It also looks at the alternative option for a foreign spouse to apply for a green card through consular processing.
Who Qualifies for Adjustment of Status Through Marriage?
Foreign spouses of legal permanent residents fall under family-based family preference categories, whereas the foreign spouses of US citizens are classified as "immediate relatives."
Spouses of US citizens and permanent residents can generally apply for a green card through the adjustment of status process based on their marital status. However, it is more complex, and there are a number of criteria that need to be met.
Historically, marriages have been used to deceive immigration authorities into granting green cards to individuals who entered fake marriages solely to obtain immigration benefits. This remains a concern for the USCIS. So anyone applying for adjustment of status is carefully scrutinized throughout the process. Even if you used a visa to come to the US with the intention of applying for a marriage-based green card after getting here, this would be regarded as visa fraud.
In the case where the documents or answers to questions asked in the visa interview indicate that the marriage may be fake, the USCIS officer may schedule a Stokes interview. The onus at such an interview is on the married couple to prove that they have a bona fide marriage and that the marriage was not entered into for the purpose of obtaining a green card. Evidence such as joint bank accounts, credit card statements, and even photographs can be used to prove your marriage is genuine.
Eligibility criteria for adjustment of status require that the foreign spouse must:
Be physically present in the US – even if their current visa has expired, physical presence in the US is required.
Have last entered the US legally on a valid visa or through a visa waiver program – this disqualifies people who entered illegally from using the adjustment of status channel.
Be admissible to the US – for example, certain crimes may automatically disqualify a potential applicant, and anyone who is determined to be a threat to national security will be deemed inadmissible.
Be in a lawful marriage to a US citizen or lawful permanent resident. The spouse may not be simultaneously married to someone else. The provision of a marriage certificate is crucial.
Adjustment of Status Through Marriage Process
The following steps, overall, are followed when adjusting status.
Submit The Petition to USCIS
In order to begin the process, your US citizen or permanent resident spouse must submit Form I-130, Petition for Alien Relative, and Form I-485, Application to Register Permanent Residence or Adjust Status, to USCIS.
Form I-130 is used to prove that you are married to a foreign national, and it must typically be submitted before applying for permanent residence. However, the forms can be submitted it at the same time during the adjustment of status process.
Scheduling of biometric appointment
Upon filing your Form I-485, the USCIS will mail you a notice for your biometrics appointment at a local Application Support Center (ASC) to provide your fingerprints, photograph, and/or signature. The notice will include appointment details, including the date, time, and location. USCIS uses your biometrics to verify your identity and conduct the necessary background and security checks.
 Interview Notice
USCIS officials will review your case to determine whether an interview is necessary. If they schedule you for an interview, you will be required to appear at a USCIS office to answer questions under oath or affirmation regarding your Form I‑485. USCIS will send you a notice with the interview date, time, and location.
Bring all original documents associated with your Form I-485 application to your interview, including passports, official travel documents, and Form I-94, regardless of their expiration dates.
The purpose of this interview is twofold:
Verify that both spouses did not get married solely for immigration benefits.
Ensure that the foreign national spouse is not ineligible for a green card due to a criminal record or illegal entry into the country.
If all goes well after the interview, a letter of approval will be sent to you.
Request for Evidence (Where Appropriate)
The USCIS will issue a Request for Evidence – REF if your application contains any mistakes or inadequate documentation. Your application for a green card will not be processed if you submit incomplete or incorrect information.
The REF will specify which documents and information are required, along with the deadlines for submission. A denial of your application will result if you cannot meet the requirements of the REF.
Once USCIS is satisfied, the physical green card should be approved and mailed to the immigrant within a few weeks of approval.
Consult an immigration attorney or law firm well-versed in US immigration matters for legal advice before starting the marriage-based adjustment of status process.
How Much Does It Cost to Adjust Status Through Marriage?
There are certain prescribed fees for the process. To file an I-130 petition costs $535. Filing your I-485 will cost another $1140, plus there is a biometrics fee of $85.
Can the Foreign Spouse Leave the U.S. During the Application?
When a foreign spouse leaves the United States while their adjustment of status application is pending, USCIS may deny it on the grounds that they have abandoned the application.
A foreign spouse can, however, apply for advance parole in order to be granted permission to temporarily leave for urgent reasons. Advance parole is generally granted for humanitarian reasons, such as visiting a sick relative, attending a funeral, or participating in a business conference.
Tadeo Silver Law Firm Can Assist
We can assist you whether you are bringing a spouse to the USA, applying for an adjustment of status, preparing for your Stokes interview, facing deportation, or wondering, "how long does it take to get a marriage green card?"
We provide a full range of citizenship and immigration services. Our team of highly experienced, competent, professional, and empathic immigration attorneys based in Atlanta is ready to assist and represent you. Contact us today.
Frequently Asked Questions
How Long Does It Take To Adjust Status Through Marriage?
Legal time frames are tricky to predict and differ on a case-by-case basis. Many factors affect the outcome, such as where and when you file, current USCIS backlogs, and whether the sponsor is a US citizen or a lawful permanent resident.
On average, getting a marriage green card takes 10 to 38 months.
How Soon After We Get Married Should We Apply for Adjustment of Status?
Generally, you are able to apply for an adjustment of status as soon as you are married and have all the supporting documents required. Before filing your application, waiting at least 60 days may be prudent. Otherwise, your application may be denied due to insufficient evidence of a bona fide marriage. Documentation and bona fide relationship evidence can be collected within sixty days.
Contact us
Legal Consultation
Book a consultation with us to answer all of your questions!