Atlanta Immigration Appeals Lawyer
An Atlanta Immigration Appeals Lawyer is your best chance at successfully appealing a denied application. Contact Tadeo & Silva Immigration Attorneys for help.
Author: Massiel Silva Tadeo, Founder, Tadeo & Silva
Attorney Massiel Silva Tadeo is a partner and owner at The Tadeo & Silva Law Firm. She specializes in removal (deportation) defense, family immigration, and hardship waivers. Updated on: October 01, 2022.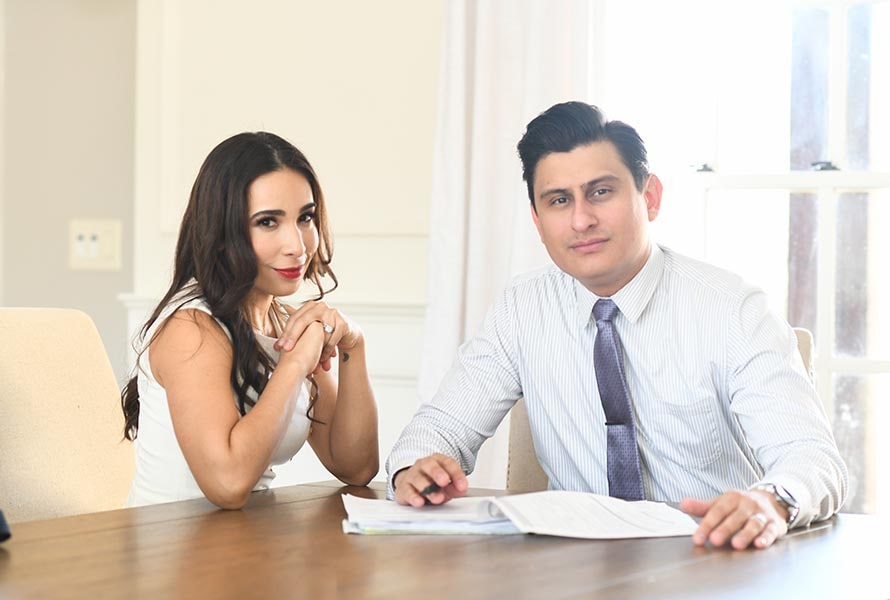 Contact us today to schedule your consultation.
How Can an Atlanta Immigration Appeals Attorney Help?
If the United States Citizenship and Immigration Services (USCIS) denies your application or the immigration judge orders your removal from the U.S., you may feel scared and overwhelmed.
However, there may be a chance to appeal some of these decisions, depending on the nature of the petition and the individual's immigration status. But, whatever the reason behind the appeal is, seriously considering getting legal assistance from an immigration attorney will be valuable to you. Appellate procedures can be complicated if the denial is more serious than a lack of necessary documentation or a bureaucratic mistake. 
An Atlanta, GA, immigration lawyer can help you create a strategy to convince a government agency or an immigration court judge to change their decision. They can also provide personalized legal representation and represent you in the Atlanta Immigration Court or before the Eleventh Circuit Court of Appeals if the case goes further. 
What Is an Immigration Appeal?
Typically, an appeal is an application to a specific authority that oversees the decision-maker. The appeal is made by the party that is not happy with the decision. With immigration issues, administrative decisions can be first appealed to an administrative agency or immigration court with higher authority if the decisions are eligible for appeal.
Two major administrative appellate bodies that handle immigration appeals are the Administrative Appeals Office (AAO) and the Board of Immigration Appeals (BIA).
An immigrant whose application to the USCIS is denied can appeal the decision to the AAO. The AAO hears appeals for about 50 types of immigration applications and petitions. These immigration cases include the USCIS denial of investment-based and employment visas, applications for temporary protected status, juvenile and special immigrant petitions, and other similar immigration cases. 
On the other hand, the BIA is part of the Executive Office for Immigration Review (EOIR), a division of the U.S. Department of Justice. As the highest administrative body for applying and interpreting immigration laws, the BIA hears appeals on decisions made by immigration judges and, in some cases, Department of Homeland Security (DHS) officials. Cases heard by the BIA include appeals of deportation orders, asylum denials, bond or parole denials, and family-based immigration cases.
How Do Immigration Appeals Work?
If you have received a USCIS notice telling you your application has been denied, pay attention and read the notice carefully. It will say whether you can appeal the denial and how.
Appealing to the decision begins by filing a Form I-290B Notice of Appeal with the USCIS or AAO within 30 days of the decision's date. The immigration process includes writing appellate briefs and stating reasons why the immigrant's petition should be granted.
When it comes to the BIA, when the immigration judge makes the decision, they will ask the government and the immigrant if they are satisfied with the outcome. Both sides can appeal the decision by filing a notice of appeal with the BIA within 30 days. 
Similar to the AAO, the BIA also focuses on written briefs and reasons, and there are rarely oral arguments during the appeals process.
How Can Tadeo & Silva Immigration Attorneys Help With Immigration Appeals?
No government agency likes to admit they were wrong. That's why having a qualified immigration attorney by your side can be crucial in winning your case. An Atlanta immigration attorney who will treat your case with the necessary personalized attention may redirect the odds in your favor regarding your immigration appeals case.
For example, a failure to secure the appropriate permissions or documentation to work and do business in the U.S. may lead to deportation issues and even an immigration ban. Therefore, business immigrants need all the help they can get to ensure their immigration application succeeds. If it doesn't, a business immigration lawyer from Tadeo & Silva Immigration Attorneys can appeal the decision on your behalf and give their best to potentially achieve approval.
On the other hand, when it comes to family-based immigration legal matters, immigration lawyers at Tadeo & Silva Immigration Attorneys law firm understand what it's like to wait for a family member to join you in the United States. Even if the immigration case circumstances are challenging, they are committed to fighting for every client. 
Still Have Questions About Immigration Appeals? Reach out to Our Immigration Law Firm
If you are facing deportation in Georgia, hire an Atlanta deportation lawyer who will fight relentlessly to help those facing removal proceedings from the United States. Tadeo & Silva Immigration Attorneys have years of experience writing appellate briefs and have helped many clients obtain favorable decisions.
Schedule a consultation with us to discuss your immigration case and determine how we can help. Call (404) 924-4072 to establish an attorney-client relationship with an immigration lawyer.
Frequently Asked Questions
How Long Does an Immigration Appeal Take?
The AAO tries to complete the appellate review within 180 days after receiving a complete case file. But, if additional documentation is needed or the case is complicated, it may take longer.
Appeals to the BIA can take between 6 months and a year. However, the process may take longer if the cases involve complex immigration matters or the Board has many pending appeals.
How Much Does it Cost to Appeal an Immigration Decision?
Currently, the AAO charges about $675 for appeals. If the immigrant can't afford to pay this fee, they may get a fee waiver from the USCIS if they face financial hardship, such as their household receiving means-tested benefits or their household income being at or below 150% of the Federal Poverty Guidelines.
The filing fee for the immigration appeals before the BIA is currently $110. But, for appealing a bond or an appealable asylum request, there is no fee.
When appealing before either of these bodies, the appeal application must contain the appropriate filing fee or a fee waiver request. If it doesn't, the appeal will be rejected. However, these fees don't include any fees that have to be paid to an immigration lawyer.
Can I Appeal Further If I Lose at the AAO or the BIA?
Generally, an immigrant may not appeal an unfavorable AAO decision. But, in some rare cases, a USCIS decision can be appealed to a federal appellate court.
However, if an immigrant loses an appeal before the AAO, they may be able to file a motion to reconsider the decision or a motion to reopen the case. But, these motions have to be based either on an incorrect application of law or evidence of new facts.
Although the rules can be complex, those who lose their appeals to the BIA may be able to petition for a review with the Circuit Court of Appeals. A review petition must be filed within 30 days of the BIA decision.
Contact us
Legal Consultation
Book a consultation with us to answer all of your questions!