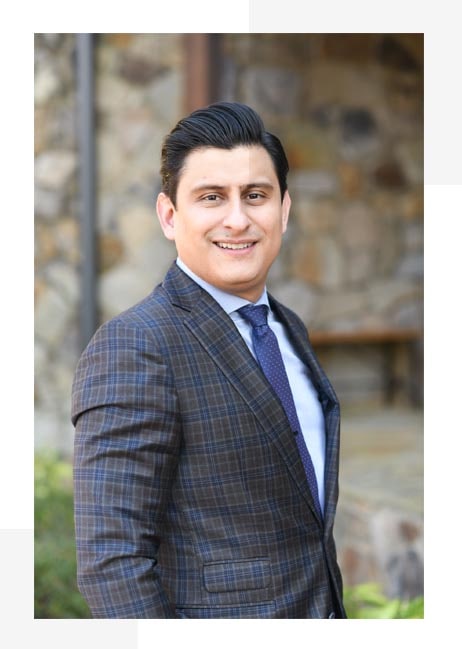 Peter A. Tadeo
Attorney Peter A. Tadeo is the founder and owner of The Tadeo & Silva Law Firm. He handles a variety of matters in U.S. Immigration and Nationality Law. Mr. Tadeo is an immigration lawyer Atlanta specialist. He understands the importance of having superb representation when it comes to immigration matters. Mr. Tadeo, the son of Mexican/Italian immigrants, was born in Fresno, California. Having lived in Atlanta since 1995, Mr. Tadeo has seen the city become a place where people and businesses from all over the world look for opportunities.
Mr. Tadeo earned his Bachelor's Degree from Georgia State University (GSU). He then attended the Walter F. George School of Law at Mercer University, where he earned his Juris Doctorate. While at Mercer Law, Mr. Tadeo re-established the Hispanic Law Student Association (HLSA) and was elected President. Mr. Tadeo was a summer intern for the Georgia Asylum Immigration Network (GAIN) where he worked on complex Asylum, U-Visa, and T-Visa applications. Additionally, Mr. Tadeo worked for the Georgia Legal Services Program (GLSP) in Macon, Georgia, under the third-year practice act, representing indigent families throughout Middle Georgia with various legal issues.
After becoming a member of the State Bar of Georgia, Mr. Tadeo focused his practice entirely on Immigration Law, helping dozens of families stay together, and contributing to the fight for immigrant rights. Mr. Tadeo is a member in good standing of the Georgia State Bar Association, The American Immigration Lawyers Association (AILA) and treasurer of the Georgia Hispanic Bar Association.
Massiel Silva Tadeo
Massiel Silva is a partner at Tadeo & Silva Immigration Attorneys. Massiel obtained her Juris Doctorate degree from Emory University School of Law in Atlanta. She is a member of the State Bar of Georgia, the American Immigration Lawyers Association (AILA), and the Georgia Hispanic Bar Association. Massiel has practiced exclusively immigration law since she graduated law school in 2013, focusing on complex family immigration issues, litigation before various Immigration Courts throughout the United States, and humanitarian petitions. Massiel has served in various committees of the Georgia/ Alabama AILA Chapter and has provided her expert knowledge at several AILA Chapter conferences, as well as in news broadcasts for CNN, Univision, and Metro Atlanta radio shows.
Massiel was born in the Dominican Republic, where she lived until she immigrated to the United Stated to attend college. She obtained her bachelor's degree graduating summa cum laude from Georgia State University. At Emory Law School, Massiel was the President of the Latin American Law Student Association, and the VP of the Immigration Law Student Association. Massiel manages her law firm alongside her husband while raising two wonderful little girls.
Contact us
Legal Consultation
Book a consultation with us to answer all of your questions!