How to Check USCIS Case Status
This comprehensive guide explains how to check your USCIS case status. Get in touch with Tadeo & Silva Law to schedule a consultation.
Author: Massiel Silva Tadeo, Founder, Tadeo & Silva
Attorney Massiel Silva Tadeo is a partner and owner at The Tadeo & Silva Law Firm. She specializes in removal (deportation) defense, family immigration, and hardship waivers. Updated on: April 13, 2023.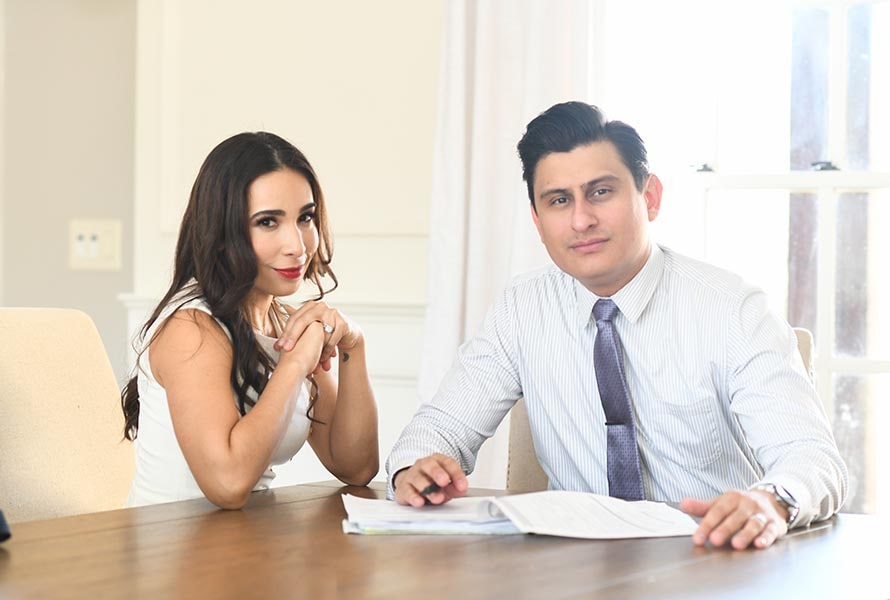 Contact us today to schedule your consultation.
What Is the USCIS Case Status?
Your United States Citizenship and Immigration Services (USCIS) case status refers to the present standing of a submitted immigration application or petition. The case status, which may read anywhere from "Acceptance" to "Denied," tells the applicant or petitioner how far along they are and whether they need to do anything else.
You can verify the current status of your application for work authorization, a green card, or any other immigration benefit with the USCIS using several methods.
If you have a USCIS online account or are using the USCIS case status online tracker feature, you can quickly check the whereabouts of your application. Inquire about your case status by phone or mail to find out where you stand with USCIS.
Regardless of the method you choose, you will need your receipt number, the 13-character code USCIS provided in a receipt notice after it accepted your application. You can also check our adjustment of status checklist for other required items.
How to Find Your Receipt Number To Check Your USCIS Case Status
Obtaining your case status through the USCIS case status online tool requires a 13-digit receipt number. Your USCIS receipt number also called the case receipt number, consists of three letters and ten numbers. Here is an example receipt number, CRC-30-023-12345.
When you submit an immigrant petition or application to USCIS, you will receive a receipt notification acknowledging that the agency has received your forms. This notification includes your unique receipt number. After applying, watch for this receipt notice issued via mail.
Your receipt number will begin with a three-letter code corresponding to the appropriate USCIS service center handling your immigration case. Here are some possible codes:
If the California Service Center handles your case, your code will be WAC or CSC.

If the Nebraska Service Center is processing your case, your code will be LIN or NSC.

If the Texas Service Center is handling your issue, your code will be SRC or TSC.

If the Vermont Service Center handles your case, your code will be EAC or VSC.

If the National Benefits Center is handling your application, NBC.

If the Missouri Service Center handles your case, your code will be MSC.

If the USCIS Electronic Immigration System is handling your case, your code will be IOE.
This three-letter code is followed by ten digits that constitute your receipt or case number. If you have not yet received your receipt number, contact the USCIS National Customer Service Center for assistance.
Once you have obtained your receipt number, you may check your USCIS case status online, by phone, or by mail.
Checking Your Case Status Online
Using the case status tracker on the USCIS website or entering into your myUSCIS account is the fastest and most convenient way to check the status of your immigration application with USCIS.
Using the USCIS Case Status Tracker
To use the USCIS case status online tracker, follow the following steps:
Visit the USCIS website and find the USCIS's case status page

Enter your receipt number where it reads "Enter a Receipt Number."

Click the "Check Status" button to access the USCIS case status online tracker
When entering your receipt number, omit dashes or hyphens but include any special characters, such as asterisks (*). 
Using The USCIS Online Account System
You can also get information regarding your case status by logging into your USCIS online account. If you submitted an online application for an immigration benefit, you should already have a USCIS online account.
However, you may need to create an account if you submit your visa application via mail. To create an account, visit the accounts page of the USCIS website and click "Create an Account." You'll need an email address to create an account.
After logging into your online account, select the application or form you submitted that you wish to track from the "My Account" drop-down option. This is where you may view the current status of your case and normal USCIS processing times. You can also access any official notices delivered to you by USCIS through your online account. So keeping your online account active is crucial if you want to keep track of your immigration status in a timely manner.
Alternative Methods for Checking the Status of Your USCIS Case Status
If you want to inquire about your application process's progress offline, you can do so via email, telephone, direct mail, or in person at your local processing center. Note that these methods of inquiry may involve longer wait times for status updates in some circumstances, like adjustment of status for Parents.
Checking Your USCIS Case Status via Phone
An initial step in checking the status of your case is to call the National Customer Service Center (NCSC). To check your case status via telephone, dial 1-800-375-5283. When inquiring about your case status by phone, you will need your receipt number, alien registration number, application type, and filing date.
Your waiting time will depend on the number of other callers inquiring about the status update of their case. In some cases, the wait time may exceed two hours.
During the call, you must take note of the following:
NCSC representative's name and/or ID number
Call date and time
The service request reference number if the service request has been made on a pending case
Checking Your USCIS Case Status via Email
Email is another tool for determining the status of your USCIS case. USCIS service centers have different email addresses. Check the list below for the email address of some USCIS processing centers:
Ensure you email the service center with jurisdiction over your case. Your email to the NCSC should include your receipt number, alien registration number, type of application, and filing date.
When the appropriate service center fails to respond within 21 days, you can email the USCIS Headquarters Office of Service Center Operations at: [email protected]. The USCIS Headquarters typically responds within 10 days of receiving your inquiry.
Checking Your USCIS Case Status via Mail
You may also enquire about the status of your USCIS case by written letter. To obtain an update on the progress of your case, you must provide the following information in an online inquiry letter to the USCIS field office where you originally submitted your petition:
Full name

Birth date

Alien number (if applicable)

Date your application/petition was submitted

The location where your application/petition was submitted

Filed receipt number (if received)
If feasible, include a copy of your receipt with your inquiry letter to expedite the case status update procedure.
Checking Your USCIS Case Status in Person
You can also inquire about your USCIS case at a local USCIS field office if you have not received assistance via telephone or email. This requires scheduling an appointment with the local processing center.
You can schedule an appointment regardless of your location in the United States. The USCIS Contact Center can be reached at 800-375-5283 for appointments. Online scheduling is not possible.
How to Get Automatic Updates on Your Case Status from USCIS
A new update system has been introduced, eliminating the need to check for updates manually. This free service applies when you create a free account.
It is essential to keep your application updated since the USCIS may request clarification or documentation. You can take action as soon as you become aware of your online case status.
How an Immigration Attorney Can Help
An immigration attorney can help you navigate the process of checking your USCIS case status. They are experienced and knowledgeable in all aspects of immigration law, so they can provide expert advice and assistance.
An attorney can help you understand the specific requirements for visa types, as well as help you prepare and submit your application. They save you the time and effort of dealing with USCIS documents, translating forms that must be completed in English, and much more.
For Help With Your Immigration Matters, Contact Tadeo & Silva Law
Applying for immigration benefits and understanding case status updates can be challenging, so it is crucial to seek assistance.
Our attorneys at Tadeo & Silva Law can guide you through the application process, prepare and submit your forms to the USCIS, and respond to any queries. We can assist you if you have questions about your immigration status, such as "what are things that affect my immigration status?"
Contact us today to get reliable help with your immigration matters. We are committed to providing excellent legal services and helping you achieve a successful outcome. Let us help make your immigration process as smooth and stress-free as possible.​
Contact us
Legal Consultation
Book a consultation with us to answer all of your questions!