Understanding Consular Processing for Spousal Visas
Do you need help with consular processing for spousal visas? Tadeo & Silva Law can be of service to you. Book a consultation call with us today.
Author: Massiel Silva Tadeo, Founder, Tadeo & Silva
Attorney Massiel Silva Tadeo is a partner and owner at The Tadeo & Silva Law Firm. She specializes in removal (deportation) defense, family immigration, and hardship waivers. Updated on: September 19, 2023.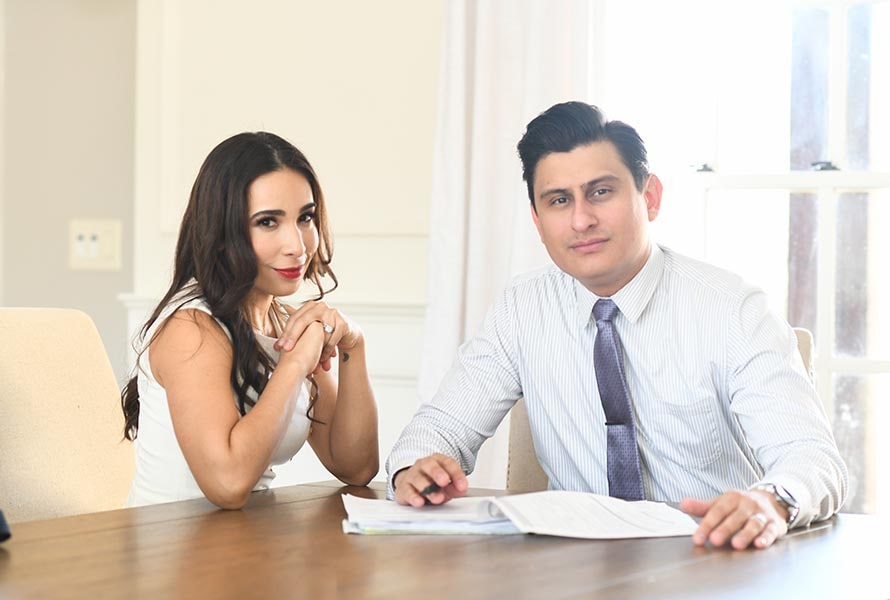 Contact us today to schedule your consultation.
Navigating Consular Processing for Spousal Visas
Is your non-citizen spouse living overseas? Are you looking for ways to live together in the United States? We understand how difficult it is to live away from your loved ones, and we at Tadeo & Silva Law are here to help you bring your family together.
If you are a U.S. citizen or a lawful permanent resident, the U.S. Citizenship and Immigration Services (USCIS) offers a path to bring your non-citizen spouse to the U.S. You can obtain a spousal visa for your foreign-born spouse through consular processing.
But what does this path entail, and how do you go about it correctly? Understanding the process increases your chances of submitting a successful visa application. So here's your detailed roadmap to consular processing for spousal visas.
What Is Consular Processing?
Consular processing is a method of applying for a U.S. immigrant visa from outside the U.S. It involves processing the visa with the U.S. Department of State consulate in the country where the non-citizen spouse is from. It is the alternative to adjustment of status, which is applicable when the visa applicant is already in the U.S. 
If your application is accepted, you will get a sealed envelope containing your file and a visa allowing you to travel to the US. This envelope must only be opened by a U.S. officer at an authorized port of entry, so please don't open it.
If the U.S. Customs and Border Protection grants you admission, you will be granted legal permanent resident status and be permitted to live and work in the U.S. permanently.
Consular Processing Eligibility
Anyone eligible for an immigrant visa can go through consular processing if they live outside the U.S.
Spouses of U.S. citizens or permanent residents fall under the family-based immigration categories. These categories are divided into immediate relatives and the family preference category.
Spouses of U.S. citizens are immediate relatives and are eligible for the IR1 or CR1 visa. Meanwhile, spouses of permanent residents are in the family preference group. They are eligible for the F2A visa. 
The specific requirements spouses must meet for their visa application to be considered include:
Both spouses must be over 18 years old.

Both partners must be legally married, and the marriage must be recognized under U.S. law.

The marriage must be authentic and not for immigration purposes.

The sponsor must be domiciled in the United States, i.e., they must live in the U.S. There can be a few exceptions to this requirement.
If you are unsure whether you meet the requirements, a top immigration lawyer could guide you.
Step-by-Step Guide to Consular Processing for Spousal Visas
You can begin consular processing after ensuring that you meet the eligibility requirements.
Step 1: Filing the Petition
The journey begins by filing a Petition for Alien Relative (Form I-130) with the USCIS. The petitioner/sponsor is the citizen or permanent resident spouse. The foreign-born spouse is referred to as the applicant. This petition is a formal request to recognize your foreign spouse as your relative. If the USCIS can establish the relationship between you and your spouse, they will approve the petition. The filing fee for the form is $535.
To get your application approved, you need to submit supporting documents. These include, among other things:
A marriage certificate.

Evidence proving that the marriage exists in good faith.

Proof that the sponsor is a Green Card holder (legal permanent resident) or citizen.
It may be helpful to consult an immigration attorney for guidance regarding the exact documents to submit.
Step 2: Processing With the National Visa Center
Once the USCIS approves the petition, they forward it to the National Visa Center (NVC). The NVC collects the visa application fees and continues the processing. Once the NVC receives your application, they will keep it until an immigrant visa number is available in your spouse's category.
For IR1 visa applicants, visas are always available. However, for F2A applicants, processing will halt until a visa is available. Once an immigrant visa number is available, the NVC will inform you. You'll need to then pay the two processing fees: the immigrant visa application processing fee and the affidavit of support fee.
When the fees are processed, you will be able to complete the Affidavit of Support (Form I-864). This form is an agreement stating that you will be financially responsible for your immigrating spouse for a certain amount of time. You will also need to submit financial documentation to prove you have sufficient income.
Once the fees have been paid, you will be able to fill out the Application for Immigrant Visa and Alien Registration (Form DS-260) online. You must print the confirmation page after submitting Form DS-260 online and bring it with you to the interview.
Step 3: Uploading Relevant Documents and Preparing for Interview
After submitting the online application, you need to gather all the required civil documents to support your application. You must then scan, save, and submit them on your online application portal.
The NVC will schedule you for a visa interview in a consular office in your spouse's home country. Before the interview, you are required to undergo the necessary medical examinations.
Step 4: The Visa Interview
Your appointment will be fixed for a particular day and time. It is vital that you are punctual. A consular officer will interview for the immigrant visa.
You must carry the following documents for your interview:
Appointment Letter 

Non-citizen spouse's (applicant's) passport

Two identical color photographs of the applicant

The DS-260 Confirmation Page

Other Supporting Documents 
The consular officer will review the application and verify the documentation. They will also ask questions about your relationship and the intent to immigrate.
Step 5: Getting the Visa
The foreign-born spouse will receive a visa packet if the officer approves the immigrant visa. The USCIS immigrant fee has to be paid for processing this visa packet. It is then presented at the U.S. port of entry, where the U.S. Customs and Border Protection inspects you to determine whether to admit you into the United States as a lawful permanent resident.
Take Action Today:
 Consult With Tadeo & Silva Law!
The journey through consular processing is quite complex. It involves many strict deadlines, meticulous documentation, and high-stakes interviews. Tadeo & Silva Law can guide you through this process without overlooking details.
We work with you every step of the way and can help you understand your rights and even prepare you for the visa interview.
Remember, bringing your spouse to the U.S. involves more than just paperwork. It is about starting a new chapter in your life together. Let Tadeo & Silva Law help you make this journey as smooth as possible. Reach out to us today, and let's embark on this journey together!
Contact us
Legal Consultation
Book a consultation with us to answer all of your questions!