Form I-751 Waiver for Joint Filing Requirement
Attorneys at Tadeo & Silva Law understand the Form I-751 Waiver for Joint Filing Requirement, and can provide you with skilled legal assistance. Contact us today for professional guidance.
Author: Massiel Silva Tadeo, Founder, Tadeo & Silva
Attorney Massiel Silva Tadeo is a partner and owner at The Tadeo & Silva Law Firm. She specializes in removal (deportation) defense, family immigration, and hardship waivers. Updated on: September 29, 2023.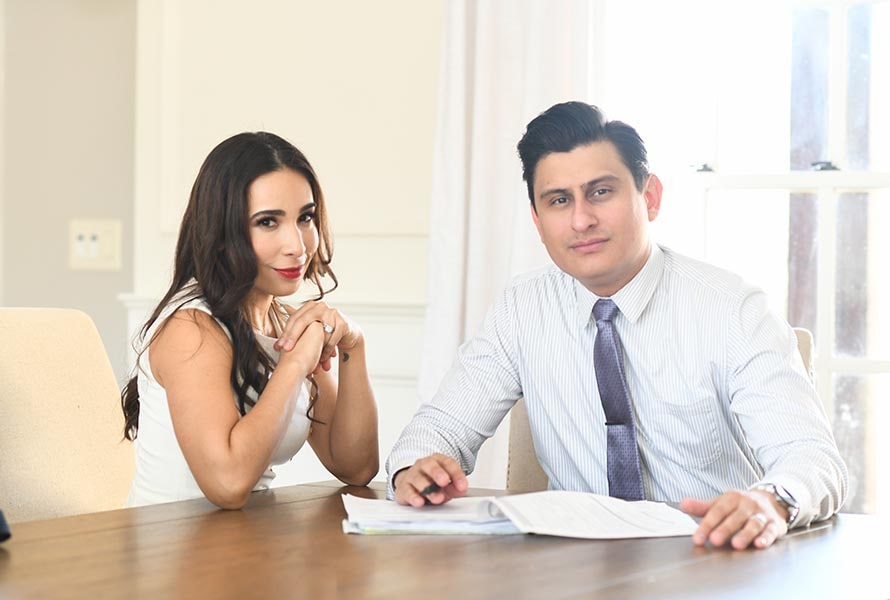 Contact us today to schedule your consultation.
Applying for a Waiver of the Joint Filing Requirement
If you received your Green Card through marriage to a U.S. citizen or legal permanent resident, and your marriage was less than two years old when you applied, then in that case, your Green Card only confers conditional permanent residence status. Therefore, you must file Form I-751 (Petition to Remove Conditions on Residence) to become a bona fide lawful permanent resident before the expiry of the two-year conditional period. But Form I-751 requires both you and your spouse to jointly file it. But what happens when it is not possible?
Fortunately, the conditional resident spouse has the option of filing alone. However, they must satisfy certain requirements before the joint filing requirement can be waived. If you plan to file alone, you need to understand the essentials for a successful application.
Joint Filing Requirement
The U.S. Citizenship and Immigration Services (USCIS) requires an individual with a conditional permanent resident status to file Form I-751 jointly with their spouses. The reason is that joint filing proves the existence of a bona fide marriage. A genuine marriage is important for the USCIS to grant any marriage-based immigration benefit. The joint filing requirement gives the USCIS an opportunity to assess the marriage and scrutinize it for any indications of fraudulent activity. Filing alone could signal to the USCIS that the marriage was for immigration reasons. However, there are certain circumstances where the USCIS may allow it.
When Can You File a Waiver?
The joint filing waiver may be granted if any of the following apply:
Your removal or termination from the U.S. would result in extreme hardship.

You entered a good-faith marriage, but your spouse subsequently died.

Your marriage ended by divorce or annulment, but you entered it in good faith.

You entered your marriage in good faith, but your U.S. citizen or lawful permanent resident spouse abused you or your child. (Extreme cruelty or battery)

Your parent initially entered the marriage in good faith, but during this union, you suffered from physical abuse (battery) or endured extreme cruelty at the hands of either your parent or your stepparent, who is a U.S. citizen or lawful permanent resident.
General Evidence Required for a Waiver of the Joint Petition Requirement
Some of the required evidence varies depending on your reason for filing independently. However, some evidentiary requirements are common among all categories. This includes:
Copies of the front and back of your conditional Permanent Resident Card.

Copies of the front and back of the conditional Green Card of your children (if applicable).

Documents detailing the outcomes of criminal charges, arrests, or convictions (if applicable).
Specific Evidence Required for Waiver of Joint Filing of Form I-751
Different documents may be required for showcasing eligibility for the joint family waiver requirement depending on the categories eligible for waiver and the nature of the circumstances of each case.
Extreme Hardship
If you need to remove the conditions on your permanent residence but cannot file Form I-751 jointly with your ex-spouse, you can file alone if you believe being deported will cause you extreme hardship.
The Board of Immigration Appeals (BIA) has determined that typical outcomes resulting from a denial of admission encompass, among other things, the following:
Separation of families

Financial disadvantages

Challenges in adapting to life in the new country

The standard and accessibility of educational options overseas

Lower quality of healthcare services and facilities

Opportunities to engage in preferred employment abroad
To be eligible for a waiver of the joint family requirement. You must submit evidence showcasing that the cessation of your status and subsequent deportation would lead to extreme hardship.
Divorce or Annulment
It might be challenging to prove that the marriage was entered in good faith in divorce cases. So, consider hiring an experienced immigration attorney to make a difference. You are required to provide the following evidence if you have divorced your U.S. citizen or permanent resident spouse and are filing for a waiver of the joint filing requirement:
Provide copies of documents that demonstrate your marriage, under which you obtained your status, was genuine and not orchestrated to bypass immigration regulations.

Evidence demonstrating the circumstances surrounding the end of the relationship.

The final annulment or divorce decree.
Consult an immigration attorney for guidance on how to go about this.
Death
The following documents are required if your permanent resident or citizen spouse/stepparent has passed away:
Evidence that the marriage that led to your conditional residence was genuine.

A copy of your stepparent/spouse's death certificate.
Battering or Extreme Cruelty
You must provide credible evidence of the abuse you or your child suffered. These could be police reports, medical reports, written witness testimonies, etc. Additionally, if your marriage ended due to extreme cruelty or physical abuse, you must submit the final divorce decree. If you are an abuse victim, our top immigration lawyer in Atlanta can help you with your application.
Form I-751 Filing Process
You can download and fill out Form I-751 online or after taking a printout in black ink. You have to then gather all your supporting documents and mail them to your location's USCIS direct filing address. You must include the filing fees (the USCIS does not accept mailed cash). It costs $595 to file Form I-751 and $85 for biometrics.
Initial Processing: After USCIS accepts your petition, it will undergo a thorough review for completeness. If any part of your petition is incomplete, it may not establish your eligibility, potentially leading to rejection or denial by USCIS.
Requests for Additional Information: USCIS may ask you to provide more details or evidence to support your petition. They may also request the original documents corresponding to any copies you submitted. USCIS will return these requested originals once they are no longer necessary.
Interview Requests: USCIS might schedule an interview at one of their offices based on your petition. During such interviews or appearances, you may be required to provide your fingerprints, photograph, and signature to confirm your identity and update background and security checks.
Decision: The decision regarding Form I-751 involves determining if you meet the eligibility criteria for the immigration benefit you seek. USCIS will communicate the decision to you in writing.
Upon approval by the USCIS, you will be granted lawful permanent resident status and receive a 10-year Green Card via mail.
Consult Tadeo & Silva Law for Filing a Waiver of the Joint Filing Requirement of Form-I 751
For help with a waiver or other family-based immigration matters, contact Tadeo & Silva Law. We can work with you to increase your chances of making a successful application. We have successfully represented several clients in similar situations. As such, we have the experience and skills you are looking for. Your welfare and the success of your case are our primary concern. For experienced immigration representation in Atlanta, Georgia, look no further than Tadeo & Silva. Schedule your first consultation today, and let us help you.
Contact us
Legal Consultation
Book a consultation with us to answer all of your questions!