Know Your Options When Facing ICE Deportation
If you or a loved one is facing possible ICE deportation, knowing your legal rights and options is essential. Learn more in this guide.
Author: Massiel Silva Tadeo, Founder, Tadeo & Silva
Attorney Massiel Silva Tadeo is a partner and owner at The Tadeo & Silva Law Firm. She specializes in removal (deportation) defense, family immigration, and hardship waivers. Published on: February 23, 2022. Last updated on: March 27, 2023.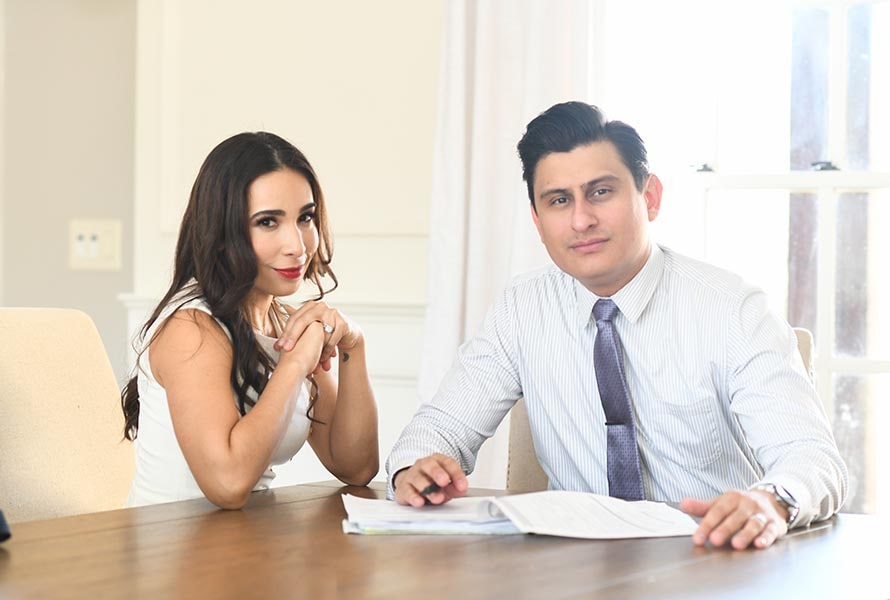 Call or email today to schedule your consultation.
The Basics of ICE Deportation
Deportation by Immigration and Customs Enforcement (ICE) is a common fear among immigrants in the United States, whether documented or undocumented. Unfortunately, that fear becomes a reality for thousands of immigrants each year, resulting in the separation of families and the loss of a hard-earned life in the U.S.
Whether you or a loved one has been detained or you simply suspect that your immigration status could be at risk, you should be aware of your options when targeted by ICE.
An immigration attorney experienced in deportation (removal) defense will be well-equipped to defend your rights under the nation's immigration laws and work diligently on your behalf to preserve your future with your family in the U.S.
ICE Deportation Procedure
The removal proceedings begin when there is an alleged immigration violation of one or more of the immigrant's visa conditions or another area of United States government immigration law.
Here are the subsequent customs enforcement measures followed:
Arrest
If the immigration enforcement officers or other law enforcement officials arrest you, they'll take you to a local jail or another ICE detention center. You can't post bond for a few hours, like in a criminal case — an immigration judge does it during your bond hearing.
Expedited Removal
If you're in the country illegally and have been here for less than two weeks, or if you entered illegally after being deported, an immigration enforcement and removal operations order can be granted by an officer without seeing a judge.
Notice to Appear
If the criminal investigators don't immediately deport you under expedited removal, they'll issue a notice to appear in immigration courts at some point. This starts your formal Homeland Security investigations and begins the clock on any deadlines.
Voluntary Departure
In some cases, you can be allowed to leave of your own volition instead of going before an immigration court. This usually involves agreeing not to return for a while and paying fines or penalties for overstaying your visa.
Bond Hearing
Generally, within 48 hours of your arrest by local police officers, you have a bond hearing in an immigration court. The judge will grant you release on bond for a sum you must pay upfront. Once paid, you can be released from ICE custody, or the judge can deny the bond based on the circumstances of your case.
Deportation
If, according to immigration laws, you are found wrong after the Homeland Security investigations, a judge can seal the deal by ordering your deportation to your home country by detention and deportation officers.
ICE Deportation Statistics
Immigration and Customs Enforcement (ICE) is an official government organization under the Department of Homeland Security (DHS). ICE investigates various national security activities, including customs violations, illegal movement of people and goods, and terrorism.
While ICE is best known for its cross-border crime operations, it also enforces immigration laws within the United States.
According to ICE, throughout the fiscal year 2018, the agency arrested more than 158,000 people on immigration charges (excluding Border Patrol arrests). During this time, more than 256,000 foreign nationals were deported. 92% of people arrested had at least one criminal conviction or pending criminal charge or were considered ICE fugitives.
ICE Deportation Guidelines
In recent years, ICE has made headlines with high-profile raids targeting undocumented immigrants nationwide.
Immigrants and temporary visa holders — particularly undocumented immigrants — should know what to do if they encounter ICE agents. Here are some guidelines:
Remain calm, and DO NOT run away.

Ask for their identity and their supervisor's name.

Do not answer any questions without speaking to a lawyer first.

Do not sign anything unless it is a notice to appear in court.

Record everything (take a picture of the badge number, etc.).
ICE Deportation Requirements
Most people living in the U.S. don't think about the possibility of being deported. But for undocumented immigrants and their families, that fear is real. Enforcement and removal operations can happen for various reasons, including contacting Immigration and Customs Enforcement authorities.
The following is a summary of the requirements to deport a person in the United States:
A person must be in the United States illegally or overstay their visa.

ICE must have a deportation warrant issued by an immigration judge or the Department of Homeland Security, signed by a senior officer.

An immigration enforcement official must physically locate the person in the United States or at a port of entry, such as an airport or border crossing. 
Homeland Security investigations arrests rose considerably after President Trump took office in 2017.
The number of arrests made by ICE rose more than 40 percent in the first 100 days of 2017 compared to the same period in 2016. And due to a series of executive orders enacted by the former president, Immigration and Customs Enforcement arrests were no longer limited to those with criminal records.
While deportations have dropped since President Biden took office in 2021, deportation is still a very real threat. This means that if you or a family member is undocumented, you must be prepared for what to do if Homeland Security investigations agents come knocking at your door.
The immigration laws generally use two statutes to deport people from the U.S. One of them is found in the Immigration and Nationality Act, and the other in the Homeland Security Act. However, there are many exceptions and qualifications to these laws.
Under the Immigration and Nationality Act, ICE can remove people from the U.S. if:
They've been convicted of or admitted to committing a removable offense.

They're inadmissible under immigration laws or threaten national security.

They're subject to a final order of removal that's been outstanding for less than two years.

They failed to register with an official government organization within 30 days of their arrival in the U.S.

They were paroled into the U.S. but failed to show good cause as to why they should be allowed to remain there for more than 30 days.

Their presence in the U.S. is considered a threat to public safety or national security.

They've entered into a sham marriage for immigration purposes.

They've committed document or identity fraud by assuming another person's identity for immigration purposes.

Their visa has expired, even if they have a pending application for permanent residency.
How to Check ICE Deportation Status
Deportation could affect you if you have any past involvement with the criminal justice system, even if it has been deleted from your record or if the charges were dropped.
You should seek the advice of a top immigration lawyer in Atlanta who can help you avoid deportation and correctly file for cancellation of removal, petition for a green card or citizenship, or apply for asylum. Your lawyer will inform you of your ICE deportation status as your case progresses.
Many people fear the possibility of Immigration and Customs Enforcement (ICE) raids and deportation if they are not citizens. Still, a reputable immigration lawyer can make all the difference in your case.
Contact an Experienced Immigration Lawyer
Immigration law is a complex area and requires a professional who understands the nuances of the immigration process. If you or someone you know is facing deportation, it's important to hire an experienced immigration attorney to help you explore your options and build a strong defense.
Your lawyer can advise you on the steps to take if you are detained by ICE, such as filing for cancellation of removal or requesting a stay of deportation. They can also help you prepare your case if you are facing deportation proceedings in court.
Most importantly, an experienced immigration lawyer can help you determine if you have any rights or legal protections that might prevent your deportation. This is especially important for lawful permanent resident (LPR) populations, who may have additional rights unavailable to other immigrants.
No matter your situation, an experienced immigration attorney can provide invaluable guidance and support as you navigate the immigration system. With their help, you have a better chance of achieving your immigration goals.
If you find yourself or a loved one in detention facilities, an experienced lawyer can help you challenge detention and deportation orders, apply for relief from deportation, or even get you released. Don't hesitate to contact Tadeo & Silva Immigration Attorneys for help. Our experienced lawyers are here to provide you with the legal advice and assistance you need.
Contact us
Legal Consultation
Book a consultation with us to answer all of your questions!