K-3 Visa: Nonimmigrant Spousal Visa
Immigration paperwork is challenging. When filing the K-3 Visa instructions form, immigration attorneys from Tadeo & Silva Immigration can help. Call us today.
Author: Massiel Silva Tadeo, Founder, Tadeo & Silva
Attorney Massiel Silva Tadeo is a partner and owner at The Tadeo & Silva Law Firm. She specializes in removal (deportation) defense, family immigration, and hardship waivers. Updated on: September 30, 2023.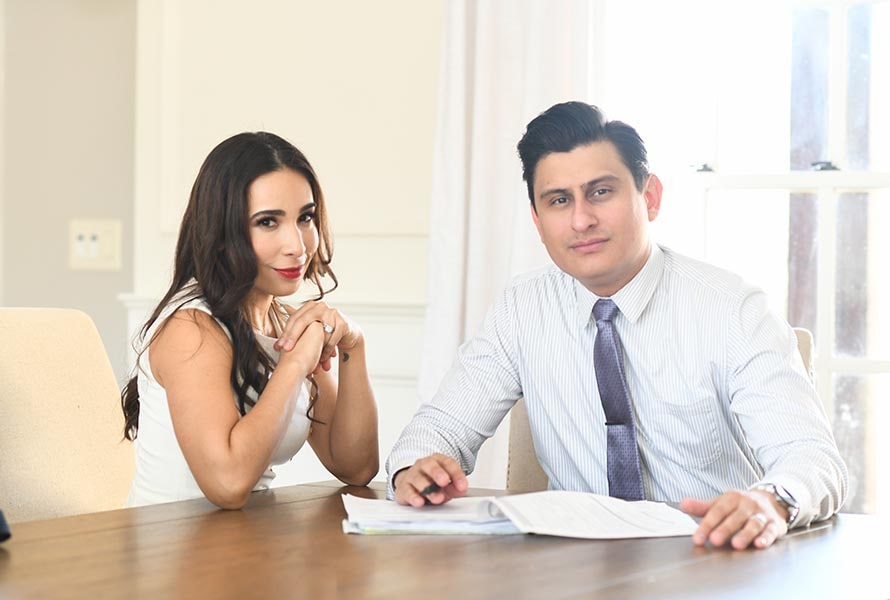 Contact us today to schedule your consultation.
Your Guide to Applying for a K-3 Visa
If you are a U.S. citizen who is married to a foreign national, you have the right to bring your spouse to the U.S. and build a life here together. But first, your foreign spouse needs to get a green card, such as an IR1 or CR1 visa, to be able to enter and live in the U.S. with you.
However, because of the long processing time of these spousal visas, Congress created the K-3 visa category. This visa is supposed to serve as a route for your spouse to come into the U.S. and be with you pending the processing of their marriage green card application.
The K-3 visa is no longer popular because the processing time is now almost identical to that of a marriage green card. Nonetheless, you might consider applying for this visa if you are experiencing delays or complications with your spouse's green card application.
To get this nonimmigrant visa, you and your spouse must meet certain eligibility requirements and go through a somewhat long process. It is crucial that you understand them to increase your chances of a successful application.
The K-3 Visa is a nonimmigrant visa that allows foreign spouses of U.S. citizens with a pending immigrant petition (Form I-130) to enter the United States. Its purpose is to shorten the amount of time married couples spend apart due to processing delays.
It is a nonimmigrant visa because it grants the foreign spouse temporary legal status for up to two years pending their green card's approval. Also, the foreign spouse's children may be able to tag along on a K4 visa if they are under 21 and unmarried.
K-3 visa is one of the uncommon green card categories because people rarely apply for it anymore. If you think it might be a good option for your foreign spouse, consider consulting with an immigration attorney first for legal advice.
Eligibility Requirements for the K-3 Visa
Couples looking to file a k-3 visa application must meet the following criteria laid down by the US Citizenship and Immigration Services (USCIS):
The visa applicant must be legally married to a U.S. citizen (not a lawful permanent resident)

The foreign spouse must reside outside the U.S.

The citizen spouse must have filed Form I-130 with the foreign spouse as the beneficiary. The form must be pending, not approved.
K-3 Visa Application Process
The process of bringing a spouse to the USA on a K-3 visa is fairly straightforward and involves the following four major steps:
Filing the Necessary Forms and Documents
If you want to sponsor your spouse for a K-3 visa, the process starts with submitting an immigrant visa petition – Form I-130, Petition for Alien Relative. After this, you must file Form I-129F, Petition for Alien Fiancé. The name is a little confusing since the form can be used for spouses as well as intending spouses.
Along with this form, you need to provide the following supporting documents:
Proof of your citizenship, e.g., passport, birth certificate, consular report of birth abroad, citizenship certificate, or certificate of naturalization

Your legal marriage certificate

Proof of termination of any previous marriages (if applicable on either side). This includes death certificates, divorce decrees, or annulment orders.

Evidence of legal name change (if applicable)

A copy of Form I-797C, Notice of Action. This is a receipt for filing Form I-130, Petition for Alien Relative.

One passport-style photo of you and your foreign spouse 
If any of the documents are not in English, you must submit them with a certified translation. Also, you are not expected to submit any original documents unless the USCIS explicitly requests them.
Applying for a K-3 Visa
After filing form I-129F, the USCIS will process it for a few months. During that time, it is possible that your form I-130 will be approved. In that case, you no longer need the K-3 visa and can proceed with an immigrant visa application for a spousal green card.
Otherwise, your k-3 visa application will go through consular processing:
The USCIS will transfer your form I-129F to the National Visa Center for processing.

The National Visa Center will contact you and your spouse with further instructions.

Your spouse must complete 

Form DS-160

, Online Nonimmigrant Visa Application. Your spouse must apply for the K-3 visa from the country where you got married.

The NVC will send the case to the U.S. embassy or consulate in your spouse's home country.

The embassy will contact your spouse with the necessary information concerning medical examination and other pre-interview steps to take. They will also set up an interview appointment with instructions on what your spouse should bring with them.
The Interview
At the interview, the consular officer will request all the required documents. If your foreign spouse cannot prove their ability to support themselves financially, you must submit Form I-134, Declaration of Financial Support. This form requires you to show that your income is at least 100 percent of the federal poverty guideline for your household size.
The consular officer at the interview will determine whether your spouse is eligible for the K-3 visa and issue a decision.
Receiving a Decision
If your spouse is issued a K-3 visa, the consular officer will give them their passport containing the K-3 visa. They will also receive a sealed packet containing documents prepared by the U.S. Embassy or Consulate. It is important that they do not open the sealed packet. The DHS immigration official at the port of entry into the U.S. is the only one authorized to open this packet.
On arriving in the U.S., your spouse is automatically authorized to work. However, they can file Form I-765, Application for Employment Authorization, to get evidence of their employment authorization. Once your Form I-130 is approved, your spouse can then file Form I-485, Application to Register Permanent Residence or Adjust Status, to become a permanent resident.
K-3 Visa Processing Time and Cost
The K-3 visa may take anywhere from six to nine months to process. In terms of costs, Form I-129F is free to file for K-3 visa applicants, but Form I-130, Form DS-160, and Form I-485 cost $535, $265, and $1,140, respectively. Medical examination fees may vary, as well as other miscellaneous costs.
Tadeo & Silva Law Firm: Trusted Immigration Attorneys
If you are considering applying for a K-3 visa, the services of a top immigration lawyer in Atlanta could come in handy. At Tadeo & Silva Law Firm, our immigration lawyers are skilled and experienced in all areas of U.S. immigration law.
Contact Tadeo & Silva Law Firm today to facilitate and expedite your spouse's entry into the U.S.
Contact us
Legal Consultation
Book a consultation with us to answer all of your questions!