Risks of Sponsoring an Immigrant
Wondering about the risks of sponsoring an immigrant? Get in touch with Tadeo & Silva Law today. We can help you understand immigration law. Call us today.
Author: Massiel Silva Tadeo, Founder, Tadeo & Silva
Attorney Massiel Silva Tadeo is a partner and owner at The Tadeo & Silva Law Firm. She specializes in removal (deportation) defense, family immigration, and hardship waivers. Updated on: September 30, 2023.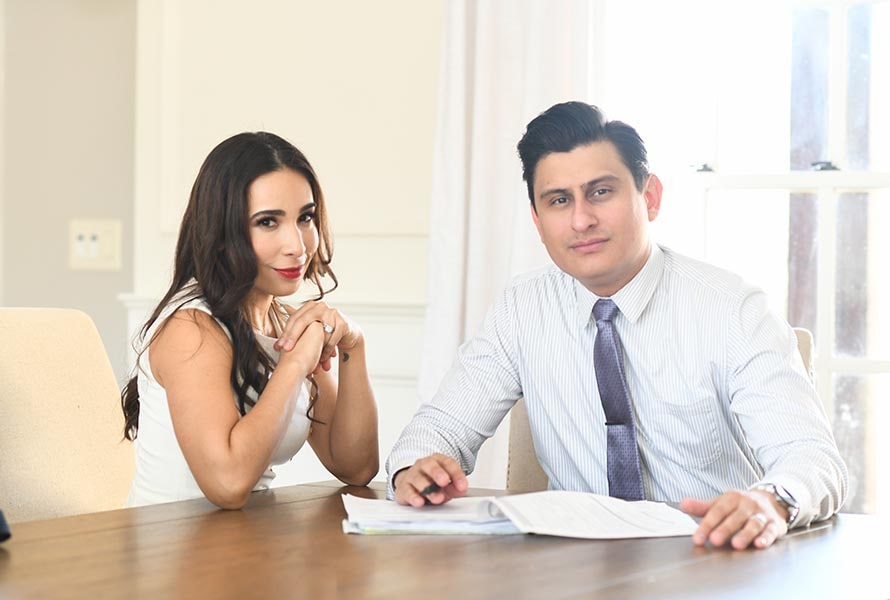 Contact us today to schedule your consultation.
Most U.S. green card applications require a sponsor, whether a family relative or an employer. For example, the sponsor must be a U.S. citizen or resident relative in family-based applications. The sponsor is usually the petitioner for the applicant. However, if the petitioner's income does not meet the legal requirement, they may ask another person to co-sponsor the green card applicant.
If you have been asked to sign as a green card joint sponsor for a friend, family member, or even a stranger, you should consider it very carefully. Sponsoring an immigrant is a significant commitment with legal, financial, and personal implications. This makes it essential to grasp the potential risks before committing to it.
What Does Sponsoring an Immigrant Entail?
When a foreigner wants to immigrate to the U.S. on any of the green card categories, they need a petitioner to submit an application to the U.S. Citizenship and Immigration Services (USCIS) on their behalf. One of the petitioner's duties is to sign and file Form I-864, Affidavit of Support.
By signing the form, you enter a legally enforceable contract agreeing to use your resources to financially support the intending immigrant. This is to serve as an assurance to immigration authorities that the immigrant will not become a public charge. That is, they will not be dependent on government resources for survival.
Sponsoring an immigrant entails legal and financial obligations that must be properly assessed and understood. Because of the seriousness of the sponsorship obligation, sponsors must meet the minimum sponsorship requirements.
Sponsorship Eligibility Requirements
There are specific eligibility requirements for a petitioner/sponsor depending on the green card category. However, you generally must meet the following criteria to be a sponsor:
Be at least 18 years old

Be a U.S. citizen or permanent resident

Reside in the U.S. or a U.S. territory/possession

Meet the USCIS income requirements. Your household income must be up to or more than 125% of the 

poverty guidelines

 for your household size.
Financial and Legal Implications of Being a Green Card Sponsor
As a sponsor, you agree to be legally bound by a duty to provide financial support to the intending immigrant. This means both the government and the immigrant can sue you in court to enforce your obligations.
You are responsible for reimbursing the government if the immigrant receives means-tested public benefits. Failure to do so can result in the agency suing you to get the money.
Also, if the immigrant faces legal issues or requires assistance, you would be required to provide support. This can involve helping them get legal representation, assisting with their bills, housing needs, and so on. Furthermore, they can sue if you refuse to provide the support they need. So, in theory, the immigrant can decide not to work and sue you for financial support instead.
If you are a joint sponsor or you combine your income with a main sponsor who is your household member in order to meet the USCIS income requirements, you will be equally responsible for supporting the immigrant.
Joint sponsors and household members are independently liable to the full extent. This means the government can sue you for the complete reimbursement of benefits given to the immigrant even if the main sponsor is not sued.
When Do the Sponsorship Obligations End?
The financial and legal responsibility of a green card sponsor endures many situations. The obligations only end when one of the following things happens:
A quarter is about three months, so 40 quarters is about ten years of work in the U.S. If the immigrant is applying for adjustment of status and has already worked some quarters, those can count towards the 40. For married couples, the immigrant spouse may be able to count the work done by their petitioning spouse toward the 40 quarters.
Furthermore, it is important to note that financial responsibility as a sponsor does not end even in cases of divorce and bankruptcy. This is something to consider if you are bringing a spouse to the USA.
Understanding the Risks of Sponsoring an Immigrant
Changing Circumstances
Life is unpredictable, and circumstances can change. If you sponsor an immigrant and your financial situation takes a downturn, you may struggle to meet your obligations. It is essential to consider the impact of changing circumstances on your ability to fulfill sponsorship obligations. You may need to create contingency plans to take care of unforeseen challenges. An immigration attorney can provide the proper legal advice on this.
Failure to prepare can mean that things like job loss or medical emergencies will affect your ability to fulfill sponsorship obligations. In turn, that could lead to legal problems and even damage to your credit history.
Affecting Your Own Immigration Process
Assuming you want to apply for naturalization, one of the eligibility requirements is that you maintain good moral character. The USCIS determines this in various ways, including examining how well you have been meeting your legal and financial responsibilities to the sponsored immigrant count. If you have defaulted in meeting these obligations at any time, it may affect your eligibility to naturalize as a U.S. citizen.
Possible Fines in the Event of Relocation
One of your duties as a sponsor is to notify the USCIS every time you relocate. Once you change your address, you are required to file I-865, Sponsor's Notice of Change of Address, with the USCIS within 30 days. Failure to do so exposes you to civil penalties in the form of fines.
The typical fine for such an offense is between $250 to $2000. But if you fail to notify the USCIS knowing that the immigrant you are sponsoring has received public assistance, which you must reimburse, you will pay a fine of between $2,000 and $5,000.
Consult Tadeo & Silva Law Firm
Immigrant sponsorship can be a life-changing experience for both the sponsor and the beneficiary immigrant. However, given the complexity and potential risks associated with sponsoring an immigrant, it's advisable to consult with an experienced immigration attorney.
If you need an immigration lawyer in Atlanta, look no further than Tadeo & Silva Law Firm. Our experienced immigration attorneys can provide you with advice and support tailored to your unique situation.
Don't navigate the complex immigration landscape alone. Contact Tadeo & Silva Law Firm today to schedule a consultation and get the assistance you need. Your journey starts with the right guidance, and we're here to help you achieve your immigration goals.
Contact us
Legal Consultation
Book a consultation with us to answer all of your questions!